Model GY Series
GYKM Probe / GYMNC Controller
Linear Profile Version / The maximum effective stroke is 1200mm.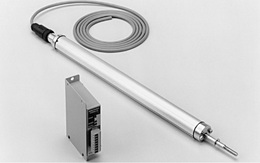 The profile measuring Φ25mm×height 22.5mm renders you a free mechanical design in adopting our "GY" series.
Applications have been widened by mounting GYKM series to cylinders, machines, equipment and it gives infinite life time due to magnetostrictive non-contact sensor, well replacing conventional potentiometers.
GYKM probe can also be used in combination with GYHC or GYDC-05 controller, which provides velocity output or digital output.
Specifications
Non-linearity
≦±0.05%FS TYP
Resolution
≦0.01%FS
Repeatability
≦±0.01%FS
Temp. drift
≦±50ppmFS/°C(probe)
≦±50ppmFS/°C(controller)
Voltage output
0-10V or 10-0V
(output current:Max.5mA, load:Min.2kΩ)
Current output
4-20mA or 20-4mA
(load:Max.500Ω)
Alarm output
not available
Power supply
+24(±2)VDC (100mA)
Sampling freq.
Std 1kHz(up to stroke 1000mm)
Operating temp.
0°C-+65°C(probe)
0°C-+60°C(controller)
Storage temp.
-20°C-+65°C
Vibration
3G(or 40Hz 2mmPP)
Shock
10G(2msec)
IP grade
IP63-IP65(probe)
Std 1.5m(Option Max.100m)
・The above mentioned accuracy applies to sensors with an effective stroke of 300mm or more.
・Zero/Gain adjustment by trimmer of controller are possible,std within ±3%FS.
Model No.

①Effective stroke
  15mm-1200mm
②Magnet
  R:rod Φ6(M5 thread)(Standard)
  R2:rod Φ6(M5 thread)
  R88:rod Φ8(M8 thread)
  R85:rod Φ8(M5 thread)
  RW88:Both end Universal Joint Type(rod Φ8)
  U:Slide magnet
  T:Floating magnet(gap 1mm)
  TS:Floating magnet(gap 4mm)
  TW:Floating magnet(gap 8mm)
  U-FX65:Slide magnet
        +flexible rod Φ6(M5 thread)
  U2-FX88:Slide magnet
        +flexible rod Φ8(M8 thread)
③Position output
  AD:0-10V(When magnet moves toward tip, output increase)
  AR:10-0V(When magnet moves toward tip, output decrease)
  BD:4-20mA(When magnet moves toward tip, output increase)
  BR:20-4mA(When magnet moves toward tip, output decrease)
  CD□□:bipolar output(-□V-+□V)
        (for example CD10:-10V-+10V)
  CR□□:bipolar output(+□V--□V)
        (for example CR05:+5V--5V)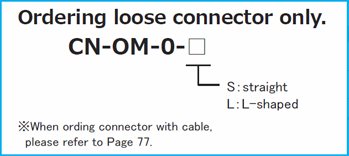 Dimensions
Dimensions
Dimensions
Option
Option
Main body material of GYKM series is Al Shapes.
Fixing clamps are supplied.
stroke < 600mm:4 pcs
stroke 600-1000mm:6 pcs
stroke 1001-1200mm:8 pcs
Connector:Omron XS2C-D4S1 (straight type) or D4S2 (L type) (Material:PBT plastic)