Model GY Series
GYKM-RS
High performance with controller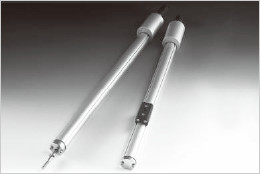 Profile (GYKM series), having GYcRS circuit inside.
Specifications
Non-linearity
≦±0.025%FS TYP
Resolution
(analogue) 16bit (with GYHC)
(digital) Min.1μm (with GYDC-05)
Repeatability
≦±0.01%FS
Temp. drift
≦±20ppmFS/°C
Operating temp.
0°C-+65°C
Storage temp.
-20°C-+65°C
Vibration
3G (or 40Hz 2mmPP)
Shock
10G (2msec)
IP grade
IP63-IP65
Cable
Std 1.5m (Option Max.200m)
・The above mentioned accuracy applies to sensors with an
effective stroke of 300 mm or more.
◆associated controller
 analogue output:GYHC (Page.42-43), GYFC2
 digital output:GYDC-05 (Page.46-47)
 MelsecQ built-in:DC-Q(JCC) (Page.48)
 CC-Link:WAGO I/Osystem750-635 (Page.49)
・Fixing clamps are supplied.
 stroke < 600mm:4 pcs
       600-1000mm:6 pcs
       1001-1200mm:8 pcs
       1501-2000mm:10 pcs
Model No.

①Effective stroke
  15mm-2000mm
②Magnet
  R:rod Φ6 (M5 thread) (Standard)
  R2:rod Φ6 (M5 thread)
  R88:rod Φ8 (M8 thread)
  R85:rod Φ8 (M5 thread)
  U:Slide magnet
  T:Floating magnet (gap 1mm)
  TS:Floating magnet (gap 4mm)
  TW:Floating magnet (gap 8mm)
  U-FX65:Slide magnet
        +flexible rod Φ6 (M5 thread)
  U2-FX88:Slide magnet
        +flexible rod Φ8(M8 thread)
③Position Output
  00:depends on external controller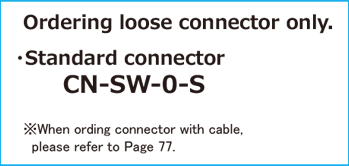 Dimensions