Model GY Series
GYKS Probe
Slim type / All-in-one Linear Profile Version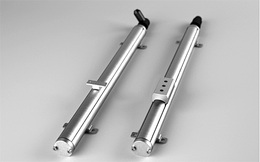 GYKS series are another model for previous GYKM-LT/LS.
Through the body, Φ25mm×height 22.5mm is achieved without
head parts Φ37 of GYKM-LT/LS series, thus smart design is enjoyed.
Two types are available:sliding magnet type and floating magnet type.
Specifications
| | |
| --- | --- |
| Non-linearity | < ±0.025%FS TYP |
| Resolution | < 0.01%FS |
| Repeatability | < ±0.01%FS |
| Temp drift | < 50ppm FS/°C |
| Voltage output | 0-10V or 10-0V / (output current:Max.5mA, load:Min.2kΩ) |
| Current output | 4-20mA or 20-4mA / (load:Min.500Ω) |
| Power supply | +24(±2)VDC (100mA) |
| Fequency response | Std 1kHz(depending on stroke) sampling |
| Operating Temp | 0°C-+65°C |
| Storage Temp | -20°C-+65°C |
| Vibration | 3G(or 40Hz 1mmPP) |
| Shock | 10G(2msec) |
| Protection | IP65 |
The above mentioned accuracy applies to sensors with an effective stroke of 300mm or more.
Model No.

(1):Effective stroke
15mm-2500mm
(2):Output
A:0-10V
B:4-20mA
(3):Direction of output
(toward probe tip)
D:output data increase
R:output data decrease
(4):Magnet type
U:sliding magnet type
T:floating magnet type(Gap 1mm)
TS:floating magnet type(Gap 4mm)
TW:floating magnet type(Gap 8mm)
Fixing clamps are supplied.
stroke < 600mm:4 pcs
stroke 600-1000mm:6 pcs
stroke 1001-1500mm:8 pcs
stroke 1501-2500mm:10 pcs
Connector:Omron XS2C-D4S1 (straight type) or D4S2 (L type) (Material:PBT plastic)
Dimensions
Sliding Magnet Type (Code:U) (sliding magnet material:POM resin)
Floating Magnet Type (Code:T) (floating magnet material:Bs)
Main body material is Al Shapes.
The length of the cable should be less than 10m in case of using the voltage output type and 100m in case of using the current output type.
Applied cable diameer:Φ5-Φ6、Wire size:0.18-0.75mm2
Special floating magnets, which allow 4mm or 8mm gap between sensor body and floating magnet are available. Consult factory.
Other option of flexible rod type is available.