Model ATG Series
ATG1
High accuracy linear gauge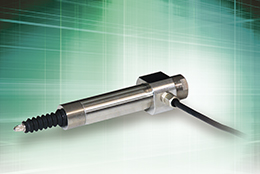 ATG1 series is the all-in-one type of linear gauge.
A magnetic resistance element and magnetic tape are mounted inside
the sensor.
The tape is magnetized with the same pitch of N and S pole precisely.
The magnetic resistance element detects the magnetic fields on
the tape and LSI converts the measured values into pulse output.
Specifications
Measuring range
10mm
Output
incremental
A/B pulse, line driver
Resolution
1μm (standard9), 0.2μm (option)
Linearity
±2μm (≦1mm:partial of stroke), ±10μm (≦10mm:total stroke)
Repeatability
≦1μm at 20°C
Measuring force
1.3〜2.6N (lateral) at 20°C
Power supply
DC24V (±2V), 0.15A
Travel speed
500mm/s (Resolution:1μm), 100mm/s (Resolution:0.2μm)
Operating temp.
0°C〜+60°C
Storage temp.
-20°C〜+60°C
Vibration
6G (or 40Hz 2mmpp)
Shock
50G (2ms)
Protection
IP67 (dustproof waterproof structure)
Sensor cable
standard 1m (option Max.10m)
Extension cable
Max.30m
Weight
approx. 200g (including 2m-cable)
Model No.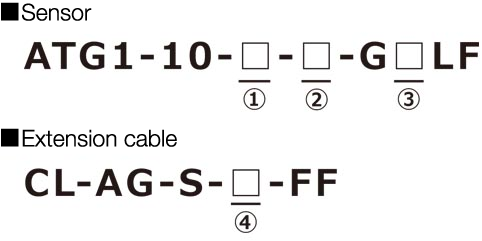 ① Resolution
  L :1μm (standard)
  H :0.2μm (option)
② Material of bellows
  N :NBR (standard)
  F :Fluoro rubber (option)
③ Sensor cable length(m)
  in unit of meter (Max. 10m)
④ Extension cable length(m)
  in unit of meter (Max. 30m)
  note)③+④≦40m

Dimensions
・Stylus :carbide ball (HRA : ≧89)
・Sensor cable :diameter Φ4(PVC sheath)
・Extension cable :diameter Φ6.6(PVC sheath)
・Body material:SS304