Controller
IRDS-GY Controller.
Corresponding to Open Network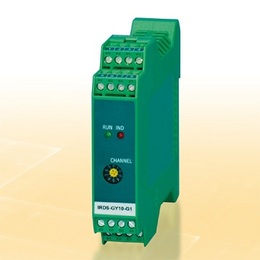 This module is GY sensor conditioning module for IRDseries.
1 axis and 2 axes types are available.
The digital position data can be transferred to various fieldbus
network (CC-Link, CC-Link IE Field, PROFIBUS, EtherNet/IP,
EtherCAT) by connecting IRDM (master module).

( Created on Nov.15.2021 )
Specifications
No. of Probe
1 axis or 2 axes
Resolution
G1, G4 : 1μm  G2, G3, G5, G6 : 0.1mm
Sampling freq.
1kHz (Std.) ( up to stroke 1000mm )
Power supply
+24VDC (±10%) 150mA
( Supplied through internal IRD bus )
Working temp.
0°C〜+55°C
Storage temp.
-25°C〜+75°C
【Occupied memory black and input output bytes】
  Memory block : 4
  Input bytes : 16
  Output bytes : 16
   
 ◆associated IRD master module
   IRDM-CCL : CC-Link Ver.2
   IRDM-EP1 : EtherNet/IP
   IRDM-DP : ProfibusDP
   IRDM-ECT : EtherCAT
   IRDM-CFN : CC-Link IE Field

Model No.

① No. of probe
  10 :1 axis position / velocity
  20 :2 axes position only
② Probe type
  G1:GYMR6, GYcRS, GYFRS, GYHTR(*), GYKMR, GYRHP-MR6, EX-GYdT-R
  G2:GYcRP, EX-GYdS-R
  G3:GYHR
  G4:GYSE-R
  G5:GYMS, GYGS
  G6 : IGY4
   *Min. resolution is 0.05 mm
③ Option ( 1 axis type only)
  blank :without option
  HS :resin coating against humidity
  others :special version

Dimensions
Dimensions
Connector
 ① : For GY sensor of axis 1 or No.1 of axes 2.
 ② : For GY sensor of No.2 of axes 2.
    (In case of IRDS-GY10, not connect)
 ・It is different in wiring depending on associated probe.
 ・Please refer to each manual.