Model GY Series
GYCL-201
CC-Link Certified Controller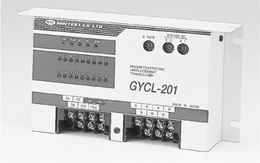 GYCL-201 controller combined with the GYcRP probe is a digital
signal conditioner. This controller has ASIC special for CC-Link and
is used as a remote device station of the CC-Link system. The
positional data of high accuracy can be transmitted at high speed
by a simple program. The setting is possible according to the
sensor, and it has the upper/lower detecting function.
Specifications
| | |
| --- | --- |
| Resolution | 1mm, 0.1mm, 0.05mm |
| Effective stroke | Max.3000mm |
| Frequency resp. | Std 1kHz (depending on stroke) sampling |
| Occupied stations | 3 |
| Transmission rate | 156k/625k/2.5M/5M/10M |
| Power supply | 24VDC (18-30VDC) |
| Consumption | 0.2A (24V supply) |
| Weight | 0.6kg |
| Operating Temp | 0°C-60°C |
| Storage Temp | -20°C-75°C |
| Vibration | 2G |
| Shock | 50G |
Model No.

(1):Effective stroke
15-3000mm
(2):Resolution
D1:1mm
D2:0.1mm
D3:0.05mm
(3):Measuring method
1M:1 magnet system
2M:2 magnet system
(a distance between two points)
(4):Auxiliary Power Supply
blank:nil
X:with
Dimensions
[Reference:WAGO-I/O-System]
WAGO Co. (Germany) product WAGO750-635 is a module that can be connected with GYcRS, GYMR5,
and GYFRS probes and measures the position of the magnet set on the sensor in high accuracy. It is
possible to use various bus couplers of WAGO-I/O-SYSTEM and develop various fieldbuses such as
DeviceNet, PROFIBUS, CC-Link, and CANopen. Moreover, the combination of multiple modules with one
bus coupler is available or max 4 magnets can be measured on one sonsor probe. Please inquire us for a
detailed catalog.