Explosion-proof Type
IGY3 Series.
Intrinsic safety structure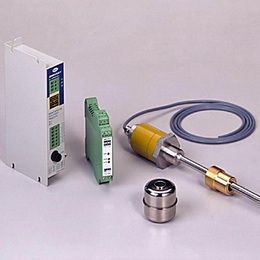 It's the displacement sensor of intrinsic safety type based upon
international standards which can be used at zone 0.
(Class 0 hazardous area).
Class A grounding (first class grounding) isn't necessary adopting
a power transformer and photo coupler isolation system.
Possible to 100°C rod by option.
Form official approval pass symbol : No.TC14815 (Sep, 2000)

( Created on Nov.24.2021 )
Specifications
Non-linearity
≦±0.05%FS Typ.
Resolution
≦±0.03%FS
Repeatability
≦±0.03%FS
Temp. drift
≦±0.02%FS /°C (Probe)
≦±30ppmFS /°C (Controller)
>≦±50ppmFS /°C (P/A converter)
Power supply
90〜110VAC 50/60Hz ≦3W (Controller)
+24(±2)VDC 0.1A (P/A converter)
Max. Pressure
35MPa (probe rod)
Operating temp.
-5°C〜+60°C (Probe) (Std.)
-5°C〜+100°C(Probe)(Option)
0°C〜+60°C(Contoroller)
0°C〜+60°C(P/A converter)
Storage temp.
-40°C〜+80°C
Vibration
6G ( or 40Hz 2mmPP)
Shock
50G (2msec)
IP grade
IP65
Explosion-proof symbol
ExdⅡ CT6
 ・The above mentioned accuracy applies to sensors with an effective stroke of 300mm or more.
  The specification of stroke less than 300mm is equal that of stroke 300mm.
Model No.

① Probe rod Operating temp.
  S :-5-+60°C(Std.)
  H :-5-+100°C(option)
② Thread
  M :M24xP1.0(Std.)
  N :M18xP1.5
  U :3/4-16UNF
③ Rod diameter
  1 :Φ10(Std.)
  3 :Φ13.8
  8 :Φ8
④ Effective stroke
  50〜1500mm
 *Max. length depends on using magnet or float.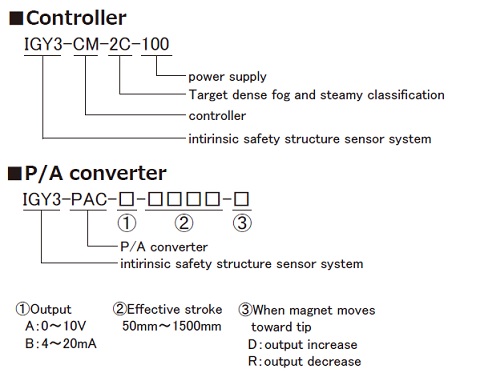 Dimensions
Probe & Magnet
Controller
P/A converter
Construction
・IGY3 series consist of a probe, a controller, a P/A converter, a magnet (or a float),
cable between probe and controller, and 1m cable between controller and P/A converter.
(Plastic magnet or float can't be used by law. )
・Probe has 1.5m cable with it. In case of extending cable,
It is possible to extend max. 400m by using the dedicated cable (2 core with shield).
(Please connect extend cable with 1.5m cable of probe in terminal box.)
・Probe and magnet (or float) should be installed in dangerous zone, and controller
and P/A converter should be installed in non dangerous zone.