Model GY Series
GYSE-R Probe
High accuracy type
(detachable probe element)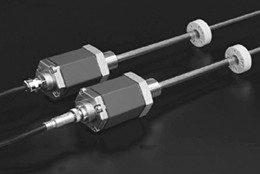 Between probe and controller, RS422 differential line driver transmission, providing robustness against electrical noise, is used. In combination with GYDC-05 controller, Min. 1μm resolution is possible.
Specifications
Non-linearity
≦±0.025%FS TYP
Resolution
(analogue) 16bit (with GYHC)
(digital) Min.1μm (with GYDC-05)
Repeatability
≦±0.001%FS
Temp. drift
≦±20ppmFS/°C
Max. Pressure
35MPa (probe rod)
Operating temp.
-20°C-+75°C
Storage temp.
-40°C-+75°C
Vibration
15G (20-100Hz)
Shock
100G (2msec)
IP grade
IP67
Cable
Std 1.5m (Option Max.200m)
・The above mentioned accuracy applies to sensors with an
effective stroke of 300 mm or more.
Model No.

①Effective stroke
  15-7500mm
②Thread dead zone
  S:50mm(STD)
  □:□mm(option)(specified by customers)
③Tip dead zone
  S:70mm/90mm/100mm(STD)
  ・S (STD length) depends on the selected magnet orfloat in ⑤.
  □:□mm(option)(specified by customers)
④Thread/Rod diameter
  M :M24xP1.0, rod Φ10(STD)
  N :M18xP1.5, rod Φ10
  U :3/4-16UNF-3A, rod Φ10
  M8 :M24xP1.0, rod Φ8
  N8 :M18xP1.5, rod Φ8
  U8 :3/4-16UNF-3A, rod Φ8
  M14:M24xP1.0, rod Φ13.8
  ZZ:EF (flexible element) only (without outer housing)
⑤Associated magnet or float

magnet
float
M2PN :No.2PN (STD)
M0SM :No.ΦSPM
M0LM :No.ΦLPM
M3 :No.3
M11N :No.11N
T144 :No.T14-M4
T163 :No.T16-M3
MG□ :other magnet

F28S :Φ28 SS316
F30S :Φ30 SS316L
F40S :Φ40 SS316(B)
F42S :Φ42.5 SS316
F50S :Φ50 SS316
F54S :Φ54 SS304
F25N :RF-A10 plastic
F28N :RF-A6 plastic
FL□ :other float

⑥Cable connection
  CN:connector(STD)
  △G□F:pigtail / cable end : free
  △G□A:pigtail / cable end : with connector for relay
   (□:cable length(m))
   (△:cable type
     S:standard, H:high temp. cable, R:robot cable)
⑦Output
  00:depends on external controller
⑧Option (see page 74)
  blank:without option
  SRT:SRT option
Dimensions
Probe
magnet
Connection
Start/Stop-Interface