Model GY Series
GYSE-Q-PF Probe
Quasi-incremental output
(detachable probe element)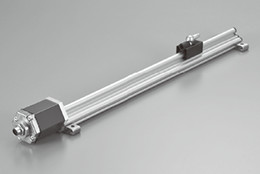 Incremental output (A/B pulse), resolution is Min.
1μm(Quad divide). The working principle is based on a sampling detection method, in which pulse frequency is fixed to 250 kHz (STD).
Specifications
Non-linearity
≦±0.025%FS TYP
Resolution
0.1mm-0.001mm specified
Repeatability
≦±0.001%FS (Min. ±3μm)
Temp. drift
≦±15ppmFS/°C
Position (STD)
A/B pulse, without Z pulse
Line driver, pulse freq. 250kHz
Velocity (Option)
not available
Alarm
Open drain 50V 0.1A (for magnet missing)
Power supply
+24(±2)VDC (70mA)
Sampling freq.
STD 1kHz (up to stroke 1000mm)
Operating temp.
-20°C-+75°C
Storage temp.
-40°C-+75°C
Vibration
15G(20-100Hz)
Shocks
100G (2msec)
IP grade
IP65
・The above mentioned accuracy applies to sensors with an
effective stroke of 300mm or more.
・Fixing clamps are supplied.
 stroke < 600mm:2 pcs
       600-1000mm:3 pcs
       1001-1200mm:4 pcs
       1501-2000mm:5 pcs
Model No.

①Effective stroke
  15-7500mm
②Thread dead zone
  S:50mm(STD)
  □:□mm(option)(specified by customers)
③Tip dead zone
  S:50mm(STD)
  □:□mm(option)(specified by customers)
④Associated magnet
  PFU :PFU slide magnet
  M11N :No.11N
  BP :No.5PFT-LG
  M11S :No.11S
  MG□ :other magnet
⑤Cable connection
  CN:connector(STD)
  △G□F:pigtail / cable end : free
  △G□A:pigtail / cable end : with connector for relay
    (□:cable length(m))
    (△:cable type
       S:standard, H:high temp. cable, R:robot cable)
⑥Resolution
  D2:0.1mm
  D3:0.05mm
  D4:0.01mm(STD)
  D5:0.005mm
  D7:0.002mm
  D8:0.001mm
⑦Direction
  D:When magnet moves toward tip, output increase
  R:When magnet moves toward tip, output decrease
⑧Pulse freqency
  1:1MHz
  2:500kHz(STD in case of ⑥ resoluton:D7, D8)
  3:250kHz(STD in case of ⑥ resolution:D2-D5)
  4:125kHz
  6:31kHz
  7:15kHz
| Resolution(mm) | Pulse freq. | Max. magnet speed |
| --- | --- | --- |
| 0.1 | 250kHz | 15m/sec |
| 0.05 | 250kHz | 15m/sec |
| 0.01 | 250kHz | 8m/sec |
| 0.005 | 250kHz | 4m/sec |
| 0.002 | 500kHz | 3.2m/sec |
| 0.001 | 500kHz | 1.6m/sec |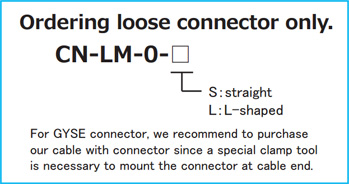 Dimensions