Model GY Series
GYSE-P-PF Probe
Profibus DP interface
(detachable probe element)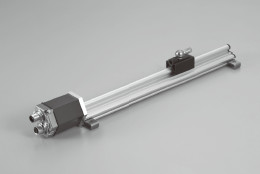 Profibus interface type. Setting parameters (resolution, output direction) through profibus is possible. Detecting up to 32 pcs of magnets on one probe is possible. GSD file is available on SANTEST web site.
Specifications
Non-linearity
≦±0.025%FS TYP
Resolution
Min.1μm(set by Profibus Configurator)
Repeatability
≦±0.001%FS (Min. ±3μm)
Temp. drift
≦±15ppmFS/°C
Output
Profibus DPV0
Power supply
+24(±2)VDC (70mA)
Sampling freq.
Stroke
-800mm : 2000Hz
-2200mm : 1000Hz
-5000mm : 500Hz
5001mm- : 250Hz
Operating temp.
-20°C-+75°C
Storage temp.
-40°C-+75°C
Vibration
15G (20-100Hz)
Shock
100G(2msec)
IP grade
IP65
・The above mentioned accuracy applies to sensors with an
effective stroke of 300 mm or more.
・Fixing clamps are supplied.
 stroke < 600mm:2 pcs
       600-1000mm:3 pcs
       1001-1200mm:4 pcs
       1501-2000mm:5 pcs
Model No.

①Effective stroke
  15-7500mm
②Thread dead zone
  S:50mm(STD)
  □:□mm(option)(specified by customers)
③Tip dead zone
  S:50mm(STD)
  □:□mm(option)(specified by customers)
④Associated magnet
  PFU :PFU slide magnet
  M11N :No.11N
  BP :No.5PFT-LG
  M11S :No.11S
  MG□ :other magnet
⑤Cable connection
  CN:connector(STD)
⑥Option
  blank:without option
  L:linearization option(≦0.006%FS TYP)
Dimensions