Model GY Series
GYKS2 Probe
Comapct・analogue output type (All-in-one)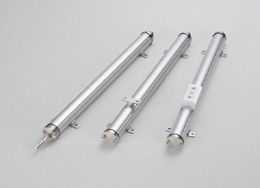 GYKS2 series are another model for previous GYKMLT/LS. Through the body, Φ25mm×height 22.5mm is achieved without head parts Φ37 of GYKM-LT/LS series, thus smart design is realized. Two types are available:sliding magnet type and floating magnet type.
Specifications
Non-linearity
≦±0.025%FS TYP
Resolution
≦0.01%FS
Repeatability
≦±0.01%FS
Temp. drift
≦±50ppmFS/°C
Voltage output
0-10V or 10-0V
(output current:Max.5mA, load:Min.2kΩ)
Current output
4-20mA or 20-4mA
(load:Max.500Ω)
Power supply
+24(±2)VDC (less than 100mA)
Sampling freq.
Std 1kHz(up to stroke 1000mm)
Operating temp.
0°C-+65°C
Storage temp.
-20°C-+65°C
Vibration
3G(or 40Hz 1mmPP)
Shock
10G(2msec)
IP grade
IP63-IP65
・The above mentioned accuracy applies to sensors with an effective stroke of 300mm or more.
・Fixing clamps are supplied.
 stroke < 600mm    :4 pcs
     600-1000mm :6 pcs
     1001-1200mm :8 pcs
     1501-2500mm:10 pcs
Model No.

①Effective stroke
  15mm-2000mm(rod type)
  15mm-500mm(both end universal joint type)
  15mm-2500mm(other type)
②Magnet
  R:rod Φ6(M5 thread)(Standard)
  R2:rod Φ6(M5 thread)
  R88:rod Φ8(M8 thread)
  R85:rod Φ8(M5 thread)
  RW88:Both end Universal Joint Type(rod Φ8)
  U:Slide magnet
  T:Floating magnet(gap 1mm)
  TS:Floating magnet(gap 4mm)
  TW:Floating magnet(gap 8mm)
  U-FX65:Slide magnet
      +flexible rod Φ6(M5 thread)
  U2-FX88:Slide magnet
      +flexible rod Φ8(M8 thread)
③Position output
  AD:0-10V(When magnet moves toward tip, output increase)
  AR:10-0V(When magnet moves toward tip, output decrease)
  BD:4-20mA(When magnet moves toward tip, output increase)
  BR:20-4mA(When magnet moves toward tip, output decrease)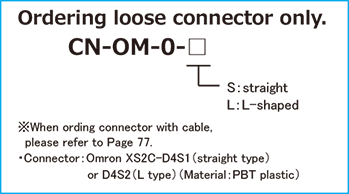 Dimensions
Rod φ6 type(Code:R)(IP63) [Rod φ8 type(Code:R8)(IP64)]
Sliding Magnet Type(Code:U)(IP65)
Floating Magnet Type(Code:T)(IP65)
Connection